Caitlin Kelly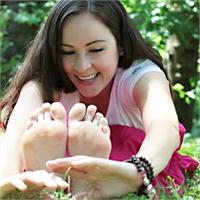 Caitlin was introduced to yoga 12 years ago, as therapy from a sports injury. She fell in love with the way yoga made her physically strong, emotionally balanced, and how it opened up spiritual connections that she never thought possible. She began a regular practice, and never looked back!
Caitlin has a 200 hour certification in Vinyasa Yoga, a 100 hour certification in Yin Yoga, and has been teaching yoga over the years to adults, children, mama's to be, and anyone willing to give yoga a try. Teaching is Caitlin's passion, and she strives to create a loving, safe space for all of her students to learn, grow, be challenged, and relax all at the same time. She is honored to be able to share her experiences, knowledge and love for movement and yoga with anyone willing to open their hearts and minds and give it a try.
Caitlin Kelly instructs the following:
This class is appropriate for all students seeking the benefits of a very relaxing and nourishing restorative practice. Restorative yoga can improve range of motion and joint mobility, while reducing pain and the effects of stress. We will spend most of our time on the floor, utilizing blocks and straps to settle deeper into each posture. The environment will be warm, but not hot, feel free to BYO blanket and let's get real cozy! There is no better way to wind down your weekend, and reset for the week ahead. Join us!




Hot Vinyasa Yoga (Vigorous Flow) is a high energy, vigorous vinyasa (meaning, relatively fast-paced and one breath per movement for a portion of the class) flow, targeting core and over all strength building. Our vigorous class will stretch, flex and work your entire body. Arm balances and inversions may be offered, along with modifications appropriate for beginners. Expect to move & sweat!




In this Vinyasa flow class we will slow down, experiencing longer holds in poses as well as work on flowing movements and transitions. This practice offers a carefully sequenced combination of poses and breath work that will help strengthen and balance your entire body and mind. You don't always have to move quickly to achieve results. Catch your breath for a minute, you may need it more than you think.