Cicelee Chappelle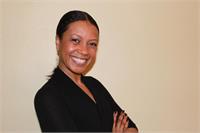 When Cicelee first began practicing yoga, it was strictly as a means to cross-train her body. Before long it became her primary form of exercise, as it benefited both body and mind in ways her gym workouts could not. Thus after years of life in New York City working on Wall St. then in the fashion industry, yoga became her path to healing her mind and spirit, releasing struggle, and staying centered. As her passion for yoga grew, so did the idea that she should share it with as many people as she could. To that end she completed teacher trainings with Isaac Pena, Jude English, Mary Dana Abbott and Schuyler Grant, emerging from them a fully committed yoga teacher.
Having now returned to Philadelphia, her hometown, she aims to serve her students with classes that purify the body and still the mind through the healing power of breath coordinated with mindful movement.
Cicelee Chappelle instructs the following:
Hot Vinyasa Yoga (All Levels) is a physically challenging, strength-building, heated Vinyasa Yoga class. Expert instructors will guide students through a unique sequence of yoga poses linked together by breath. Appropriate for those looking to cultivate cardio-vascular endurance and flexibility, clear the mind, and invigorate the body in a non-threatening environment. Be prepared to sweat!