Justine Bacon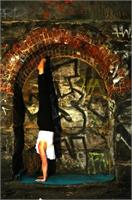 Justine is an inquisitive, boundary pushing explorer with many deep passions in her life and for our natural world. In her four years of teaching she has taught weekly classes, workshops, teacher trainings, fundraising events, and fitness bootcamps in and around Center City Philadelphia. Her wanderlust has taken her both nationally and internationally to teach on retreat. A teacher in service to her community, she is a Co-founder of Philly Yoga Factory, Philly's first pay-what-you-can yoga program, offering classes every single day of the week. Justine uses her teaching in every opportunity to make her community brighter. An environmentalist, Justine teaches yoga on land and on water and assists with cleanups to raise the community's level of love and awareness for our world.

Justine holds an undergraduate degree in Psychology from Temple University. Always a student, Justine studies many traditions for both her teaching and personal practice. She is an E-RYT 200 and YACEP and holds certifications as well as continued education credits in Hot Vinyasa Yoga, SUP Yoga, Yin Yoga as well as Power Yoga and Hot Yoga fusion formats. She has had the pleasure to contribute to the Philly Area Yoga blog and the honor of being featured in Philadelphia Magazine's Be Well Philly annual print edition 2015-2016 for her cyclist and runner's classes. She is a proud Pro-Ambassador of Jade Yoga Mats.
Justine Bacon instructs the following:
Hot Vinyasa Yoga (Vigorous Flow) is a high energy, vigorous vinyasa (meaning, relatively fast-paced and one breath per movement for a portion of the class) flow, targeting core and over all strength building. Our vigorous class will stretch, flex and work your entire body. Arm balances and inversions may be offered, along with modifications appropriate for beginners. Expect to move & sweat!




Hot Vinyasa Yoga (All Levels) is a physically challenging, strength-building, heated Vinyasa Yoga class. Expert instructors will guide students through a unique sequence of yoga poses linked together by breath. Appropriate for those looking to cultivate cardio-vascular endurance and flexibility, clear the mind, and invigorate the body in a non-threatening environment. Be prepared to sweat!




This class is a hybrid of yang (active yoga) with yin (passive yoga). We will begin with the active portion of class to build strength, warmth and flow with fundamental yoga postures while relieving stress and tension by connecting breath with mindful movements. We will finish with yin (or passive yoga) to create flexibility, mindfulness and softness to release the connective tissues, create space and integrity in the joints and remove blockages to internal energy flow.

This class is suitable for all ages, abilities & physical conditions and will complement other active practices. This class is practiced in a room heated to 95 degrees and all levels are welcome.




In this Vinyasa flow class we will slow down, experiencing longer holds in poses as well as work on flowing movements and transitions. This practice offers a carefully sequenced combination of poses and breath work that will help strengthen and balance your entire body and mind. You don't always have to move quickly to achieve results. Catch your breath for a minute, you may need it more than you think.