Jillian Bussey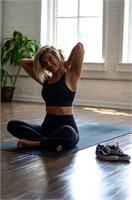 Jillian began practicing yoga in 2001 to heal her body from years of running. She began a consistent practice and was amazed by the remarkable transformations occurring in her body, and especially the shifts in her mind. In 2012, she completed an Anusara-inspired 200-hour training in Bryn Mawr, PA. The philosophy of uniting Attitude (heart), Alignment (mind) + Action (body) deeply resonates with Jillian to this day. She is continuing her studies towards a 500-hour certification in The Advanced Training at Three Queens Yoga. Jillian encourages a lighthearted yet thoughtful space and leads unique vinyasa sequences aimed to challenge + restore the body + mind.
Jillian Bussey instructs the following:
This challenging total body workout is set to energizing music and designed to give you all the benefits of our traditional vigorous vinyasa flow together with additional strength exercises from the pilates and functional fitness modalities. We will use our own body weight as resistance to help increase your heart rate, build bone density, and still leave you feeling calm, refreshed and rejuvenated.




Hot Vinyasa Yoga (Vigorous Flow) is a high energy, vigorous vinyasa (meaning, relatively fast-paced and one breath per movement for a portion of the class) flow, targeting core and over all strength building. Our vigorous class will stretch, flex and work your entire body. Arm balances and inversions may be offered, along with modifications appropriate for beginners. Expect to move & sweat!




Hot Vinyasa Yoga (All Levels) is a physically challenging, strength-building, heated Vinyasa Yoga class. Expert instructors will guide students through a unique sequence of yoga poses linked together by breath. Appropriate for those looking to cultivate cardio-vascular endurance and flexibility, clear the mind, and invigorate the body in a non-threatening environment. Be prepared to sweat!