Megan Provost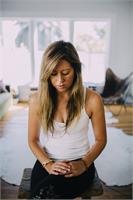 Megan began her journey with yoga like many for fitness,but quickly realized the deeper transformation at work in the practice. In the hope of sharing this transformation with others, Megan started her journey as an instructor, completing Yoga Tree's teacher training certification in San Francisco.
Megan's core focus on and off the mat is mindfulness and meditation. Drawing from Hindu and Buddhist teachings, Megan aspires to create a space for her students to connect to their practice on a deeper level, offering the invitation to look inwards and find a new level of openness to fully receive the benefit a yoga practice offers.
Megan Provost instructs the following:
In this Vinyasa flow class we will slow down, experiencing longer holds in poses as well as work on flowing movements and transitions. This practice offers a carefully sequenced combination of poses and breath work that will help strengthen and balance your entire body and mind. You don't always have to move quickly to achieve results. Catch your breath for a minute, you may need it more than you think.




Hot Vinyasa Yoga (All Levels) is a physically challenging, strength-building, heated Vinyasa Yoga class. Expert instructors will guide students through a unique sequence of yoga poses linked together by breath. Appropriate for those looking to cultivate cardio-vascular endurance and flexibility, clear the mind, and invigorate the body in a non-threatening environment. Be prepared to sweat!




As the days become darker and colder over the winter months, our bodies are programmed to crave rest and restoration. Unfortunately our society no longer recognizes this natural hibernation cycle, demanding high energy and long days which throws our circadian rhythm out of balance and can lead to fatigue, digestive issues and even depression around this time of year. This workshop is designed to restore balance and create a healing environment that will leave you feeling recharged and grounded in your self care practice. Megan will guide you through a 2 hour relaxation session with the use of Movement, Guided Meditation, Reiki and Essential Oils. Give yourself permission to rest and let the benefits of your practice unfold.

EarlyBird Pricing before 1/30: $25

After 1/30: $30/pp

*autopay members receive 10% off!