Alison Mungan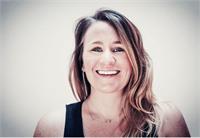 Alison inspires, engages and motivates combining her training as a social worker and dedication as a yoga teacher to lift up students and community every day. Alison completed the 200 hour teacher training at DIG Yoga in 2013 in alignment-based hatha yoga with her mentor, Mariel Freeman.
Alison's conversational teaching style invites students to honor and relish the present moment in whatever form it takes, be it effort or ease. Through clear alignment cues and thoughtful sequencing, she encourages, supports, and empowers students to cultivate a deeper connection with their breath and body, creating a sustainable yoga practice to carry throughout life. In her classes, Alison loves to combine creative sequencing with a spirit of playfulness, as well as some good music to move to and a dose of inspiration to help you deepen your practice.
Alison has taught yoga for Greenfest: The City of Philadelphia's Council on Clear Air, Be Well Philly Magazine's Summer Yoga Series at the Comcast, and Resolution RX.
Alison Mungan is currently not instructing any classes.