Lauren Freid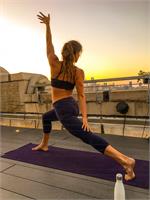 Lauren discovered Yoga in 2014 when she first stepped onto a mat right here at Priya Hot Yoga. She quickly fell in love, and before she knew it she was practicing every day. In 2017, she completed her 200 RYT at Maui Yoga and Dance Shala under the instruction of Nadia Toraman, Karin Kuhn, and Nicki Doane. Lauren is currently a Rheumatology Fellow at the Hospital of the University of Pennsylvania where she treats patients with autoimmune diseases and musculoskeletal disorders. By emphasizing proper alignment and utilization of props, Lauren hopes to encourage a practice that is simultaneously challenging and therapeutic for the mind and body. In Philadelphia, she has continued her alignment-based training with Joan White at the Iyengar School of Philadelphia, and she frequently attends workshops to deepen her own practice and her teaching. Lauren eagerly awaits her return to Maui in 2018 where she plans to study more under her mentors at Maui Yoga Shala, but until then she "lives aloha" here in the City of Brotherly Love, and tries to impart a little "aloha spirit" on all those who join her for practice.
Lauren Freid instructs the following:
Hot Vinyasa Yoga (Vigorous Flow) is a high energy, vigorous vinyasa (meaning, relatively fast-paced and one breath per movement for a portion of the class) flow, targeting core and over all strength building. Our vigorous class will stretch, flex and work your entire body. Arm balances and inversions may be offered, along with modifications appropriate for beginners. Expect to move & sweat!