Kelly Love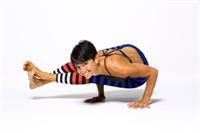 Kelly Love left her full time job as banking executive two years ago to dedicate herself to being a full-time yoga, pilates and barre instructor in Philadelphia and the surrounding areas. Kelly began her career in the fitness industry over two decades ago teaching high energy group fitness classes. As Kelly refined her teaching style, she was fascinated with anatomy and the way in which our body was designed to move and began to specialize her teachings in the mind-body discipline. Kelly has traveled to NYC and San Francisco to deepen her studies and traveled to India, Thailand and Cambodia to share the gift of yoga with orphans and sex trafficking victims as part of their healing process.

Kelly received her 200 hour yoga certification in 2006 from Power Yoga Works in Philadelphia and completed her 500 hour certification with anatomy guru, Jason Crandell, in San Francisco. In addition to yoga, Kelly is certified to teach mat and apparatus pilates. Having been in the fitness industry for over two decades, Kelly draws from her knowledge and experiences in teaching other disciplines to offer a well-rounded yoga practice that is educational yet playful, challenging yet accessible, exploratory yet functional. Outside of the classroom she enjoys cooking and travel and spending time with her husband and three children.
Kelly Love instructs the following:
Hot Vinyasa Yoga (Vigorous Flow) is a high energy, vigorous vinyasa (meaning, relatively fast-paced and one breath per movement for a portion of the class) flow, targeting core and over all strength building. Our vigorous class will stretch, flex and work your entire body. Arm balances and inversions may be offered, along with modifications appropriate for beginners. Expect to move & sweat!




This challenging total body workout is set to energizing music and designed to give you all the benefits of our traditional vigorous vinyasa flow together with additional strength exercises from the pilates and functional fitness modalities. We will use our own body weight as resistance to help increase your heart rate, build bone density, and still leave you feeling calm, refreshed and rejuvenated.




The second of three workshops in a series, these workshops are designed to provide an overview of the musculoskeletal system and its applications to the yoga practice.


In the second module we will cover:


· The musculoskeletal system of the core and spine, including the diaphragm.


· The importance of alignment in our asana to sustain a healthy yoga practice.


· High level overview of modifications in postures involving flexion and extension of the spine.

Attendance of module 1 & 3 is not required to participate in this workshop.

Total Investment: $30/pp

*autopay members receive 10% off!