Kelly Love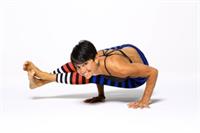 Kelly Love left her full time job as banking executive two years ago to dedicate herself to being a full-time yoga, pilates and barre instructor in Philadelphia and the surrounding areas. Kelly began her career in the fitness industry over two decades ago teaching high energy group fitness classes. As Kelly refined her teaching style, she was fascinated with anatomy and the way in which our body was designed to move and began to specialize her teachings in the mind-body discipline. Kelly has traveled to NYC and San Francisco to deepen her studies and traveled to India, Thailand and Cambodia to share the gift of yoga with orphans and sex trafficking victims as part of their healing process.

Kelly received her 200 hour yoga certification in 2006 from Power Yoga Works in Philadelphia and completed her 500 hour certification with anatomy guru, Jason Crandell, in San Francisco. In addition to yoga, Kelly is certified to teach mat and apparatus pilates. Having been in the fitness industry for over two decades, Kelly draws from her knowledge and experiences in teaching other disciplines to offer a well-rounded yoga practice that is educational yet playful, challenging yet accessible, exploratory yet functional. Outside of the classroom she enjoys cooking and travel and spending time with her husband and three children.
Kelly Love instructs the following:
Hot Vinyasa Yoga (All Levels) is a physically challenging, strength-building, heated Vinyasa Yoga class. Expert instructors will guide students through a unique sequence of yoga poses linked together by breath. Appropriate for those looking to cultivate cardio-vascular endurance and flexibility, clear the mind, and invigorate the body in a non-threatening environment. Be prepared to sweat!