Ashley Wagner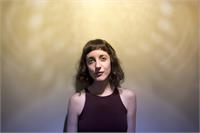 Ashley Renee teaches breath-centered, strengthening vinyasa as well as slow, deep yoga in the style of yin. Sessions with Ashley are balanced– uplifted by playfulness and rooted in mindfulness.
In 2014, Ashley completed the 250 hour vinyasa program at Dhyana Yoga, and in 2016, completed Corina Benner's yin yoga training at Wake Up Yoga. Ashley enjoys birding, being in nature, and western herbalism. She and yoga have been studying one another since 2010.
Ashley Wagner instructs the following:
This class is a hybrid of yang (active yoga) with yin (passive yoga). We will begin with the active portion of class to build strength, warmth and flow with fundamental yoga postures while relieving stress and tension by connecting breath with mindful movements. We will finish with yin (or passive yoga) to create flexibility, mindfulness and softness to release the connective tissues, create space and integrity in the joints and remove blockages to internal energy flow.

This class is suitable for all ages, abilities & physical conditions and will complement other active practices. This class is practiced in a room heated to 95 degrees and all levels are welcome.