Brittany Policastro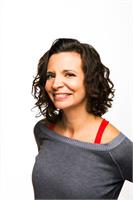 Known as a Stevie Wonder-loving, truth-speaking, change-agent who bagged law school to pursue a creative thirst that lead to teaching yoga full time; Brittany challenges her students to be brave, wake up and live their purpose. She has been teaching soul-stirring yoga classes for the past 12 years and is the founder and director of Beyond Asana, an online platform for those looking to use their practice to transform their lives.
Her technique is influenced by her 300 hours of training in Anusara, practice in Vinyasa, Kundalini, Restorative Yoga, and Osho Dynamic Meditation, work with Off the Mat Into the World, study of the Chakra system, a year of intense self exploration with her shamanic healer, extensive travel, and deep study in India.
Brittany writes for the Huffington Post and her own blog- The Breakthrough Blog. Brittany loves dancing, food prepared with love, reading every night and is currently working on her first book.
Brittany Policastro instructs the following:
Hot Vinyasa Yoga (All Levels) is a physically challenging, strength-building, heated Vinyasa Yoga class. Expert instructors will guide students through a unique sequence of yoga poses linked together by breath. Appropriate for those looking to cultivate cardio-vascular endurance and flexibility, clear the mind, and invigorate the body in a non-threatening environment. Be prepared to sweat!




Not all relationships are meant to last forever. And just because one ends doesn't mean it was a failure. Sometimes we need to just let it go to move on and let in something new. And this can be hard to do. Sometimes support is needed.

Whether your breakup was 5 days ago or 5 years ago this 2-hour workshop led by yoga powerhouse and transformation coach Brittany Policastro will give you the tools, the support and the love to heal, to grow and to move on. The soundtrack will be sappy. The message will be deep and transformative. And the community will be strong. There's no shame in needing to mend a broken heart. Come get supported on your mat and create space for your next great relationship.

Earlybird Investment by 10/21: $20/pp

After 10/21: $25/pp

*autopay members receive 10% off!