Maggie Santella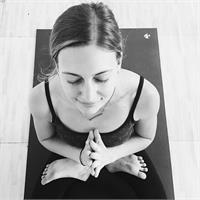 When Maggie found Vinyasa yoga, she immediately fell in love with the practice. Believing she was already recovering from depression and anxiety, she thought yoga would be a healthy habit. Maggie quickly discovered that yoga healed her in ways other therapies never could, and so she traveled to Rishikesh, India for teacher training. There, Maggie became empowered to create a life which would allow her to use her practice on and off of her mat. She continues to find new ways to do this through continuing her studies whenever she can, and by staying inspired by her passion for "recovery from life". Maggie believes every soul can benefit from the practice, and her classes offer modifications and advancements so that every body at every class can reap benefits and experience "wellth". When she is not in the studio, she can be found with her personal guru, her emotional support animal Hudson.
Maggie Santella instructs the following:
Our Hot Vinyasa community flow classes are $5- cash only. This class is open to, and appropriate for all levels.

If you are an Unlimited member then this class is included in your membership a no additional charge.
If you have a 5,10, or 20 class card, then you can opt to use your class card or pay $5 cash instead.




Hot Vinyasa Yoga (All Levels) is a physically challenging, strength-building, heated Vinyasa Yoga class. Expert instructors will guide students through a unique sequence of yoga poses linked together by breath. Appropriate for those looking to cultivate cardio-vascular endurance and flexibility, clear the mind, and invigorate the body in a non-threatening environment. Be prepared to sweat!