Jacki Steuer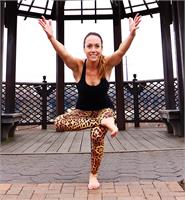 Jacki was first drawn to yoga in 2009 because of the way it allowed her to disconnect from the stresses of everyday life. She fell in love with the mental clarity and peacefulness it brought her. It then grew into a daily practice in 2012 when she was training for a marathon. She recognized that the physical practice of yoga was exactly what she needed to balance out her weight training and running regime. Today, it is one of the most important parts of her life. Jacki believes that the union of mind, body and spirit that the practice of yoga gives us is the most important gift that someone can give themselves. With the intention of being able to help others give themselves this beautiful gift, Jacki enrolled in her 200 hour teacher training at the Zen Den.
Always up for a challenge, Jacki is drawn to arm balances and a practice that will not only leave her feeling at peace but one that will also push her to deepen her practice. She guides her students through a well balanced vinyasa flow while offering modifications and more advanced options. Her classes are suitable for all levels, allowing you to make the most of your unique practice.
Jacki Steuer instructs the following:
Hot Vinyasa Yoga (Vigorous Flow) is a high energy, vigorous vinyasa (meaning, relatively fast-paced and one breath per movement for a portion of the class) flow, targeting core and over all strength building. Our vigorous class will stretch, flex and work your entire body. Arm balances and inversions may be offered, along with modifications appropriate for beginners. Expect to move & sweat!