Noelle Gesualdo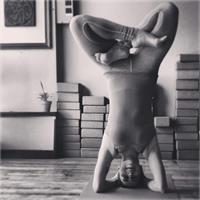 Noelle is a registered nurse and an advocate for mental health awareness and preventative holistic health practices. Formally trained in dance from the age of three, Noelle dabbled in yoga classes throughout her teen and college years to improve her flexibility and balance. After enduring a tragic suicide in her family and a ballet injury that left her unable to continue dancing, Noelle lost much of herself and her passion. While vacationing in Aruba in early 2011, Noelle was re-introduced to what she had lost by practicing yoga and learning about yoga's positive effect on the resort instructor, who was alike in age and had suffered a similar loss. This allowed Noelle to find inspiration to incorporate yoga into her life. By developing a strong mind-body connection through her practice, she has acquired a new perspective on life and has improved her overall health tenfold. Noelle describes her experience with yoga as "profound, invaluable, and life-changing," and it has inspired her to teach and share her practice with others.
Noelle completed her 200 hour teacher training at Dana Hot Yoga in 2012 and has been teaching ever since. She is very excited to be a part of the Priya Hot Yoga family!
Noelle Gesualdo is currently not instructing any classes.