Katie Rice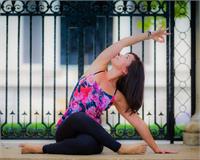 Katie is a founder and co-owner of Priya Hot Yoga. Katie has been practicing Hot Vinyasa yoga since 2009. She turned to the practice during a transitional period, and found that the challenges faced on her yoga mat reflected very much on where she was in her life at the time. Katie quickly realized how much of a positive impact yoga has on her everyday well-being, both on and off the mat. Years later and after an amazing life-altering yoga retreat to Costa Rica, she decided to open Priya. Katie wanted to live out her passion, and share the practice with as many people in the community as possible. She truly believes that the world would be a better place if everyone practiced yoga!
Katie completed her 200-hour teacher training under the tutelage of Lisa Mitchell and Rachel Hoppenstein of Dana Hot Yoga. She continually seeks growth as a dedicated student of yoga.
Off the mat, Katie enjoys traveling as much as possible, and spending time with her husband, Porter, and their pup, Sam.
Katie Rice instructs the following:
Join Katie & Kristen for a fun, high-energy, vinyasa yoga class set to the best hits of the 2000s. We'll move, sweat, laugh, and reminisce.

The room will be heated to 90 degrees. We're about to get it real "hot in herre"!

$15 investment (pre-register online)

$20 Drop in at the Door

THIS EVENT IS FREE FOR ALL 3,6,&12 MONTH AUTOPAY MEMBERS, but reservation is still required to guarantee a spot in the class!