Lisa O'Rear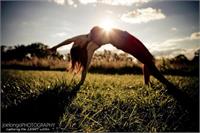 Lisa first stepped onto a yoga mat in 2009, and by 2010 completed her first 200 hour teacher training. Lisa has been teaching at Philly Power Yoga since 2010. Her desire to continue to grow both on and off her mat led to her complete 200 hour teacher training at DIG Yoga and to date she has completed over 400 hours of training. Through alignment, she challenges students to realize both their inner and outer strength. Her classes are creatively sequenced, challenging and heartfelt. Originally from Miami, Lisa now resides in Philadelphia. When not on her mat, she can be found either running, spinning or getting together with her friends and family.
Lisa O'Rear instructs the following:
In this Vinyasa flow class we will slow down, experiencing longer holds in poses as well as work on flowing movements and transitions. This practice offers a carefully sequenced combination of poses and breath work that will help strengthen and balance your entire body and mind. You don't always have to move quickly to achieve results. Catch your breath for a minute, you may need it more than you think.




Hot Vinyasa Yoga (Vigorous Flow) is a high energy, vigorous vinyasa (meaning, relatively fast-paced and one breath per movement for a portion of the class) flow, targeting core and over all strength building. Our vigorous class will stretch, flex and work your entire body. Arm balances and inversions may be offered, along with modifications appropriate for beginners. Expect to move & sweat!