Patricia Blumenauer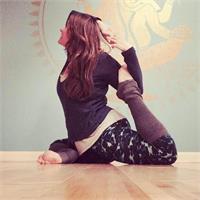 Patricia is an RYT 200 certified vinyasa yoga teacher. As an athlete, Patricia was drawn to yoga to become more flexible; she bounced around different studios and experimented with different types until she found a true passion for Vinyasa. Once she became a more serious practitioner Patricia quickly discovered the many benefits that yoga could bring to one's physical, emotional, and mental health. Always armed with a great playlist of songs to accompany the practice, Patricia's classes are infused with a supportive atmosphere and include physical poses accessible for students of all levels. She emphasizes proper alignment and encourages mindfulness through readings based on classical and contemporary texts, while focusing on meeting one's body and mind where it is every individual time one comes to their mat.
Patricia Blumenauer instructs the following:
This class is a hybrid of yang (active yoga) with yin (passive yoga). We will begin with the active portion of class to build strength, warmth and flow with fundamental yoga postures while relieving stress and tension by connecting breath with mindful movements. We will finish with yin (or passive yoga) to create flexibility, mindfulness and softness to release the connective tissues, create space and integrity in the joints and remove blockages to internal energy flow.

This class is suitable for all ages, abilities & physical conditions and will complement other active practices. This class is practiced in a room heated to 95 degrees and all levels are welcome.




Hot Vinyasa Yoga (All Levels) is a physically challenging, strength-building, heated Vinyasa Yoga class. Expert instructors will guide students through a unique sequence of yoga poses linked together by breath. Appropriate for those looking to cultivate cardio-vascular endurance and flexibility, clear the mind, and invigorate the body in a non-threatening environment. Be prepared to sweat!