Ashley Rufo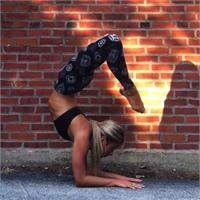 Ashley took her first yoga class in eighth grade in a church basement. She did not find a regular practice until she came across a Vinyasa Flow class while studying at Penn State. She began practicing regularly a few times a week, until it became a part of her daily routine. She fell in love with the invigorating yet humbling practice and completed her 200 hour teaching training after graduating college. Ashley teaches a powerful class that is skillfully sequenced to open and strengthen targeted areas of the body while finding meditation through movement. She guides a fluid flow through asanas, incorporating variations and arm balances for a challenge of the body and mind. There is always something to work toward and a new edge to explore.
Ashley Rufo instructs the following:
Hot Vinyasa Yoga (All Levels) is a physically challenging, strength-building, heated Vinyasa Yoga class. Expert instructors will guide students through a unique sequence of yoga poses linked together by breath. Appropriate for those looking to cultivate cardio-vascular endurance and flexibility, clear the mind, and invigorate the body in a non-threatening environment. Be prepared to sweat!




Let's explore the Art of Being Upside Down! Join Ashley on a journey into inversions. In this workshop, we'll focus on proper engagement and alignment of headstand, forearm stand and handstand. You'll learn how to use your core, shoulder girdle, legs, even fingers and toes to optimize your inversion practice. We will warm up with some exercises that you can take home and practice, then we will work on finding air time upside down! Open to all-levels, come dive deeper into your inversion practice!

Earlybird Investment by 10/31: $25/pp

Investment after 10/31: $30/pp

*autopay members receive 10% off!




Hot Vinyasa Yoga (Vigorous Flow) is a high energy, vigorous vinyasa (meaning, relatively fast-paced and one breath per movement for a portion of the class) flow, targeting core and over all strength building. Our vigorous class will stretch, flex and work your entire body. Arm balances and inversions may be offered, along with modifications appropriate for beginners. Expect to move & sweat!




The Priya community is truly something special. It's more than we could've dreamed up, and we have all of you beautiful people to thank for it. Please join us as we celebrate Priya Hot Yoga's 3rd Birthday!

Instructor Ashley Rufo has paired up with Philly's own DJ Royale (fellow Priya Yogi) to deliver a music driven Vinyasa flow. Join us for a 60 minute invigorating flow accompanied by sonic rhythms and moody melodies.

After class, we'll transition into the lobby and DJ Royale will turn up the party as you dance, mingle, and sip some complimentary seasonal craft beers courtesy of our friends at Philadelphia's Dock Street Brewery (also fellow Priya Yogis!). Not a fan of beer? No biggie, we'll have complimentary wine available, along with some light refreshments.

Total Investment: $20/pp (before 11/7)




After 11/7: $25/pp

THIS EVENT IS FREE FOR ALL AUTOPAY MEMBERS, but reservation is still required to guarantee a spot in the class!