Ashley Rufo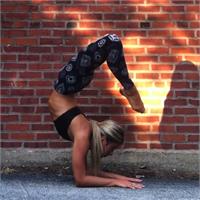 Ashley took her first yoga class in eighth grade in a church basement. She did not find a regular practice until she came across a Vinyasa Flow class while studying at Penn State. She began practicing regularly a few times a week, until it became a part of her daily routine. She fell in love with the invigorating yet humbling practice and completed her 200 hour teaching training after graduating college. Ashley teaches a powerful class that is skillfully sequenced to open and strengthen targeted areas of the body while finding meditation through movement. She guides a fluid flow through asanas, incorporating variations and arm balances for a challenge of the body and mind. There is always something to work toward and a new edge to explore.
Ashley Rufo instructs the following:
Hot Vinyasa Yoga (Vigorous Flow) is a high energy, vigorous vinyasa (meaning, relatively fast-paced and one breath per movement for a portion of the class) flow, targeting core and over all strength building. Our vigorous class will stretch, flex and work your entire body. Arm balances and inversions may be offered, along with modifications appropriate for beginners. Expect to move & sweat!




This class is a hybrid of yang (active yoga) with yin (passive yoga). We will begin with the active portion of class to build strength, warmth and flow with fundamental yoga postures while relieving stress and tension by connecting breath with mindful movements. We will finish with yin (or passive yoga) to create flexibility, mindfulness and softness to release the connective tissues, create space and integrity in the joints and remove blockages to internal energy flow.

This class is suitable for all ages, abilities & physical conditions and will complement other active practices. This class is practiced in a room heated to 95 degrees and all levels are welcome.