Rachel Dobkin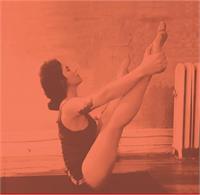 Rachel formally began her yoga studies in 2008 and completed her 250-hour Teaching Training at Dhyana Yoga. She practices Ashtanga yoga and currently studies with David Garrigues at the Ashtanga Yoga School of Philadelphia. She's also studied Vinyasa yoga with Alex Holmes and John Vitarelli and alignment-based yoga with Gina Stickney-Weddle.
Rachel believes yoga can be beneficial for everyone, especially those who are suffering. She found relief from depression, anxiety and lower back pain, and is devoted to helping others heal. She takes a personalized approach to each student, and is enthusiastic about working with those who have physical limitations. Rachel's alignment-based Vinyasa flow classes are challenging yet supportive, with options for both beginners and advanced practitioners.
Rachel Dobkin instructs the following:
Hot Vinyasa Yoga (All Levels) is a physically challenging, strength-building, heated Vinyasa Yoga class. Expert instructors will guide students through a unique sequence of yoga poses linked together by breath. Appropriate for those looking to cultivate cardio-vascular endurance and flexibility, clear the mind, and invigorate the body in a non-threatening environment. Be prepared to sweat!




This class is appropriate for all students seeking the benefits of a very relaxing and nourishing restorative practice. Restorative yoga can improve range of motion and joint mobility, while reducing pain and the effects of stress. We will spend most of our time on the floor, utilizing blocks and straps to settle deeper into each posture. The environment will be warm, but not hot, feel free to BYO blanket and let's get real cozy! There is no better way to wind down your weekend, and reset for the week ahead. Join us!




Are you a beginner and you want to learn more about the fundamentals of yoga before stepping into the classroom environment? Have you been practicing yoga for some time, and want to reset your practice and get back to the basics? If yes to either question, join Rachel Dobkin as she leads us through a 2 hour immersion into the basics of a Vinyasa Yoga practice. You will learn to find your breath and alignment, while becoming comfortable with some of the more frequently called poses.

We will guide you through the following:


• brief background on what yoga is, and the Vinyasa style
• breathing exercises
• foundation postures and how to adapt them to your needs
• how linked postures work together in our flows
• how to modify postures uniquely for your body

This is one you won't want to miss!

Space is limited to 20 people.

Earlybird Investment by 11/5: $25/pp

Investment after 11/5: $30/pp

Autopay members receive 10% off!