Rachel Dobkin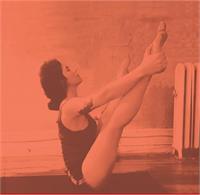 Rachel formally began her yoga studies in 2008 and completed her 250-hour Teaching Training at Dhyana Yoga. She practices Ashtanga yoga and currently studies with David Garrigues at the Ashtanga Yoga School of Philadelphia. She's also studied Vinyasa yoga with Alex Holmes and John Vitarelli and alignment-based yoga with Gina Stickney-Weddle.
Rachel believes yoga can be beneficial for everyone, especially those who are suffering. She found relief from depression, anxiety and lower back pain, and is devoted to helping others heal. She takes a personalized approach to each student, and is enthusiastic about working with those who have physical limitations. Rachel's alignment-based Vinyasa flow classes are challenging yet supportive, with options for both beginners and advanced practitioners.
Rachel Dobkin instructs the following:
Hot Vinyasa Yoga (All Levels) is a physically challenging, strength-building, heated Vinyasa Yoga class. Expert instructors will guide students through a unique sequence of yoga poses linked together by breath. Appropriate for those looking to cultivate cardio-vascular endurance and flexibility, clear the mind, and invigorate the body in a non-threatening environment. Be prepared to sweat!